Medical staff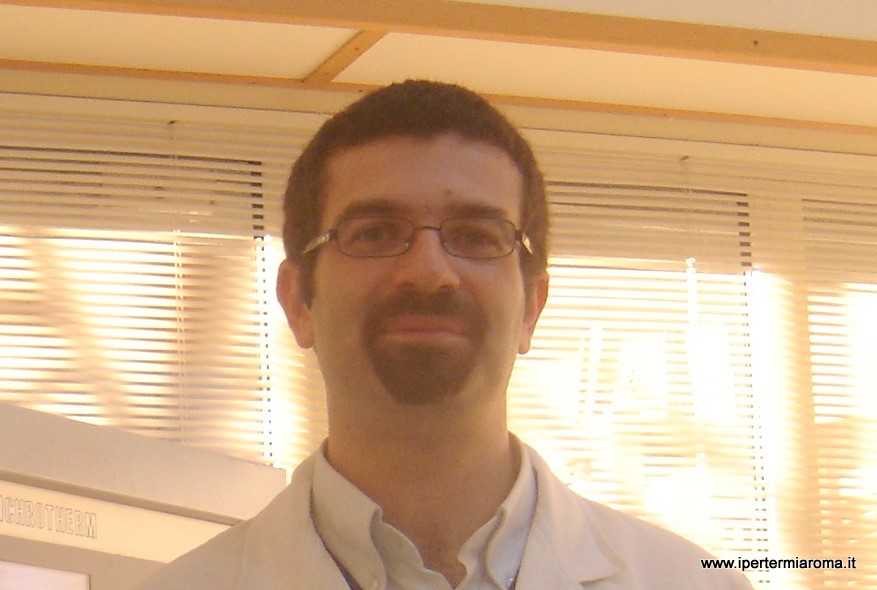 Dr Carlo Pastore, medical - surgeon, a specialist in medical oncology and perfected in hyperthermia cancer clinic in 2001.
Graduated in medicine and surgery with a score of 110/110 with honors from the University of Rome "La Sapienza" experimental thesis.
Enabled in 2002 to practice medicine with the maximum score of 110/110; specialist with a specialization in oncology since 2005 , obtained at the First School of Medical Oncology of the University of Rome "La Sapienza" Policlinico Umberto I with a score of 70 / 70 and honors.
Enhanced Hyperthermia in Clinical Oncology by graduating in 2006 at the Second University of Rome "Tor Vergata". Oncology consultant for the Sofia Medical Center (Sweden) and for CMH-Centro Médico Hilu presso Nueva Andalucía in Marbella (Spain) , exercise at the Policlinico Umberto I of Rome Operations Unit of Medical Oncology.
Author of a book on medical oncology, entitled "Perspectives for clinical oncology in general practice" Winner of two awards for research on treatment with erythropoietin in patients with advanced cancer at the Department of Clinical Medicine University Hospital "Policlinico Umberto I "in Rome.
Palliativ physician experienced home care, prevention and therapy of cancer pain. Author of numerous publications in international journals on oncology (see medline).
Head of Operational Integrated chemo-hyperthermia in the clinic Villa Salaria in Rome (Italy).
Scientific Publications

Darbepoetin in the control of cancer-related anaemia.
Franchi F, Pastore C, Nigita G, Seminara P.
Clin Exp Med. 2008 Dec;8(4):225-7. Epub 2008 Sep 30.
PMID: 18825479 [PubMed - indexed for MEDLINE]

Antiangiogenic metronomic chemotherapy and hyperthermia in the palliation of advanced cancer.
Franchi F, Grassi P, Ferro D, Pigliucci G, De Chicchis M, Castigliani G, Pastore C, Seminara P.
Eur J Cancer Care (Engl). 2007 May;16(3):258-62.
PMID: 17508946 [PubMed - indexed for MEDLINE]

Mitomycin C and etoposide in advanced colorectal carcinoma. A clinical and in vitro experience that focuses the problem of schedule dependence in combination therapy.
Seminara P, Pastore C, Iascone C, Cicconetti F, Nigita G, Ielapi T, Franchi F.
Chemotherapy. 2007;53(3):218-25. Epub 2007 Mar 15.
PMID: 17363844 [PubMed - indexed for MEDLINE]

CMF with 5-FU in continuous infusion a pilot study.
Franchi F, Pastore C, Seminara P.
Eur J Gynaecol Oncol. 2006;27(2):204. No abstract available.
PMID: 16620075 [PubMed - indexed for MEDLINE]

The surgeon's decision as a prognostic factor in a pool of patients with colorectal cancer coming from different institutions.
Franchi F, Rossi L, Izzo L, Binda B, Pastore C, Falconi C, Amoroso A, Cammarata A, Cicconetti F, Seminara P.
J Exp Clin Cancer Res. 2003 Sep;22(3):385-8.
PMID: 14582695 [PubMed - indexed for MEDLINE]

Favorable toxicity profile of raltitrexed in elderly patients treated for colorectal cancer: a case series.
Franchi F, Pastore C, Caporale A, Fabiani O, Rossi L, Seminara P.
Gerontology. 2003 Sep-Oct;49(5):324-7.
PMID: 12920353 [PubMed - indexed for MEDLINE]

Ca 19-9 in the monitoring of colorectal cancer after surgery.
Franchi F, Pastore C, Izzo P, Calió E.
Med Oncol. 2001;18(3):237-8. No abstract available.
PMID: 11917949 [PubMed - indexed for MEDLINE]