Articles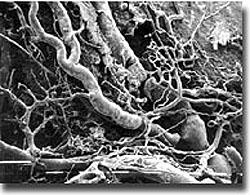 Among the skin cancers, Melanoma is certainly the most formidable. This tumor affects melanocytes, the cells that produce melanin, the substance which protects the body from the harmful effects of UV rays.
Needless to say, excessive exposure to sunlight promotes the onset of this disease and it goes without saying that regular check-ups with a dermatologist are highly recommended.
A timely diagnosis is in fact the true weapon we have. Regarding the medical approach to this disease, most times the first step in the healing procedure is a surgery .
The removal of the lesion and the surrounding tissue represents the main procedure and usually, when the disease is limited in size, nothing more is needed. If there is evidence of a locally advanced disease, an adjuvant medical treatment is required.
Several drugs can be used, first of all, the stimulants of our immune response, since melanoma cells are particularly susceptible to the control carried out by the immune cells of our body. Clearly, I am referring in particular to interferon and interleukin.
Metastatic disease is cured with a medical therapy which includes drugs such as dacarbazine, temozolomide, the fotemustina (besides interferon and interleukin if they have not been used previously).
The melanoma is a capricious disease. Sometimes it goes into spontaneous remission for years, other times it can have a rapid course, and at times it can even recur after 20 years or more.
The metastatic sites typical of this disease are lymph nodes, liver, lungs and brain. What is the role of radiotherapy and hyperthermia? Unfortunately, melanoma responds poorly to chemotherapy and in case of strategically placed injuries (which lead to a compressive effect or pain), it is advisable to combine hyperthermia and/or radiotherapy, in order to maximize the synergetic effect of the treatments.